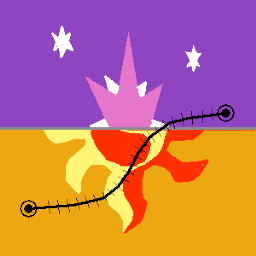 Source
Sunset didn't have much to her name, outside of her academics.
It comes as quite a shock when she finds herself seemingly the target of prophesy, centered around a town called Ponyville.
And so, she rides a train to Ponyville, and dreams of Nightmares.
Part 0 of the DuskOverDawn AU, in which Twilight is Sunset's senior of a few years.
Cover Art by the cheapass loser who wrote this
---
This story is just one of the many stops on the Monorail! The event's theme is "trains". For a full list of content, click HERE! This is the 6th stop, but be sure to check out the others!
The previous stop was Pleasant Company by Lingo.
You're more than welcome to write your own addition, the only requirement is rail transport as a major plot element or location. Have fun!
Chapters (1)