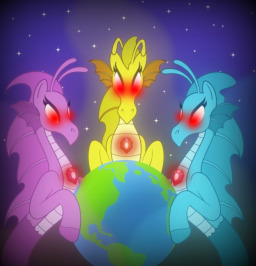 This story is a sequel to A Delicious Victory
---
The Dazzlings won.
Shortly after their victory over the Rainbooms, the sirens began their takeover of the world by infecting everyone with their song. In only a few short days, countries fell to the disharmony and chaos wroth on by the enchanting voices of the sirens.
Now, two weeks later, only a handful pockets of human resistance remain. The sirens are unchallenged as their might has grown along with their song.
But hope remains...
In the realm of Equestria, Twilight searches for a way to re-enter the Human World and set things right.
Somewhere in Canterlot City, a resistance movement is slowly being formed.
And within the sirens themselves, the trapped Rainbooms and Sunset Shimmer patiently wait for the moment to escape...
Chapters (1)