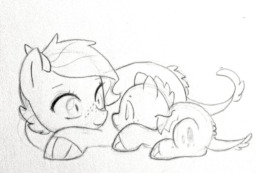 Source
When T comes to visit and deliver gems to his older sister Claire in Canterlot at her shop, he accidentally causes half the store to come crashing down. His apologies are met with deaf ears while she yells at him for his faults and brings up something personal from his past that crosses the line.
T flies away to seek shelter in order to collect his thoughts, but is followed by three of his friends. Though they all become upset and want to talk to Claire, T shares with them a story from his past when he was bullied and how his sisters love saved and protected him.
This is my contest entry for Kilala97's Fun Fact fanfic contest!
The Fun Fact I based my story on was:
Claire protected him from bullies when they were younger but now, his size is enough to keep the bullies away.
Cover Art by: Kilala97
Chapters (1)