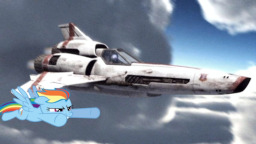 When the severely damaged Galactica makes an emergency blind jump away from the Cylon Colony, it encounters a strange new world of magic and talking ponies. The Colonials, desperate to settle down on a new world, are eager for the chance to put their troubles behind them and start anew on Equestria, but humanity's violent past makes many on Equestria nervous. Despite the fears of the planet's native inhabitants, the Colonial military cannot simply lay down their weapons only one jump away from the Cylons' former home base. Because the desperate, dying remains of the Cylons are still out there, and even a dying beast has sharp claws...
Note: I'm not even going to try to explain all the ridiculous plot twists of neo-BSG. I'll try to make things understandable to everybody, but those who haven't seen the show will likely miss out on a fair amount.
Okay, so I pretty much did this on impulse. I've never really been a part of the MLP fanfiction community beyond reading stuff, and I know my writing probably leaves a lot to be desired. If anyone is interested in helping me with editing/pre-reading, please contact me.
Also, this story contains references to AdmiralTigerclaw's story "Higher Flyer", which you should really read anyway because it is awesome.
Chapters (2)