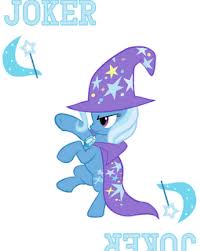 Today, Applejack hosts another poker game in her cellar after a healthy amount of reviewing rules, hands, and such of Hoofington Hold 'Em with her friends. With everyone having 1,000 bits each, who will walk away with them all at the end of this nail-biting tournament?
~~~~~~~~~~~~~~~~~~~~~~~~~
First shot at a comedy. Constructive criticism is wanted.
Also, it has been awhile since I've played poker. Sorry if I screw anything up about the rules even after re-re-reading them.
Chapters (1)