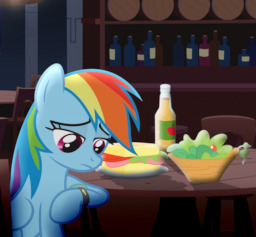 Source
Rainbow Dash and Twilight Sparkle knew eachother when they were fillies. Their parents knew eachother. They were the loving kindergarten couple, the kind that would play pretend as a married couple. In middle school, they dated, and in middle school, they split. Twilight moved away and Rainbow forgot her face.
When Twilight became a princess they did meet again. They loved. They were loved. They made love. It didn't last. The spark had died when they were tweens, and they let it stay burnt out.
One day, Rainbow sits in her favourite bar for her morning breakfast. Princess Twilight walks in. Once more, they love, and crave to be loved.
Chapters (1)