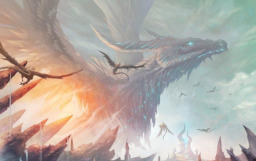 Source
This story is a sequel to Life as a dragoness [temp title]
---
One day twilight is exploring the crystal caverns when she accidentally awakens an ancient creature she has never heard of before. What will happen with the return of this creature.
I had this story in my had for years but lacked confidents.
This will be my first ever story so please be kind. Genres will be added as needed.
Cover art isn't mine i just grabbed an image.
Editor: Creative Delight ch1-???
Chapters (6)