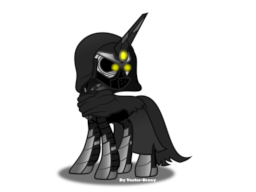 The Royal Guard, defenders of Equestria with three different factions. The Celstial Guard, the Lunar Guard... and the Specialists.
One for day, one for night, and one for the most dangerous tasks.
Specialists serve directly under the princesses, their rank equal to the captain.
One team rose above the rest in terms of strength, devotion, and sense of justice. They call themselves the Guardians.
Six ponies strong enough to rival alicorns make up this team. None of their identities were made known to the public, it is said that only the princesses and Captain Shining Armor know their names.
Golden Dusk a member of the Guardian , had gone missing during a mission for about two months. Then suddenly, he returned in mostly good condition .
He had thought that the last mission would be the last one for a while. However, another threat brews within the shadows of the majestic city of Canterlot.
Not to mention, Scarlet Gem, his teammate, has been acting slightly different lately.
Unbeknownst to him, so was he.
Later chapters proofread by Javarod
Cover art by Vector Brony
Chapters (19)