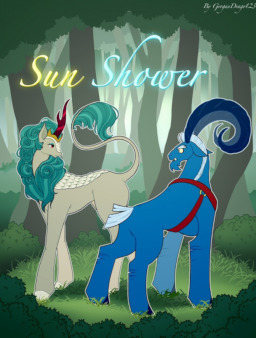 There was more to Rain Shine than anyone can believe. Not even her closest knew of what she's done in the past. The Curse of Silence she forced upon her people was only one of the bad choices she's made in her life. But she's too terrified of herself to reveal what she's done and let go of the past. She's even too scared to go Nirik. But why? What has she done to have all of this weight on her shoulders? No one may know... That is, until a certain blue ram comes into her life.
What will happen when the Demon of Tambelon is forced to stay with the Kirin Tribe? Will the Queen of Silence be able to see through the beast and find his broken heart? Or is she meant to fall deeper into the Lake of Misery along with the Father of Monsters?
————————————————
Contains: Canon Divergence, Slow Burn, Elements of ASPD, Mentions of Blood, Gore, and Trauma
Cover Art made by Rockformed
Links:
https://www.deviantart.com/rockformed
https://rockformed.tumblr.com/
Edit (5/21/20): Making some fixes and trying to get down the full story.
Chapters (4)