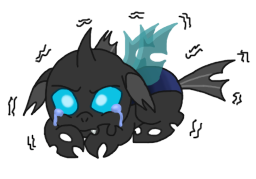 This is not a long story, and what happened is neither justified or condemned. This is merely a scene of a bigger tale, about how a pony who, because of circumstances, had to do something he would never forgive himself for, and thus not only betray the values he was raised with all his life and believed in, but also lost a piece of his soul.
REVISED AND COMPLETED.
Image by DeviantARTist Night-Chimeras-Cry, which inspired me to write this.
MLP FIM belongs to Hasbro and Lauren Faust.
Chapters (1)