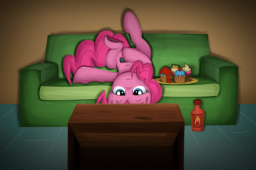 When Sugar Cube Corner closes down for Equestria's Labor Day, the town's newest resident, seventeen year old Pinkamena D. Pie, finds herself with nothing to do to entertain herself. After trying multiple avenues of fun and games, she comes to a dreadful realization:
She's bored.
____________________________
A random bit of madness spawned as a bit of a challenge to myself. I wanted to write a good Pinkie Pie story, but I wanted to do it in a unique way. Given how much I've been enjoying writing Pony Plots, which is a first person perspective story, and that I've not seen any stories that are told from Pinkie's perspective, I thought "Why not?"
Also, I couldn't figure out who did the cover art, so unfortunately it is used without permission. However, if anyone can let me know who they are, so I can at least credit them, that would be awesome!
Oh, also, if this goes through, as of right now, it will be my first E rated story on the site!

Chapters (1)