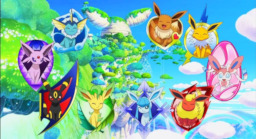 So, probably thanks to a weird storm, my frat brothers and I, as well as my uncle, finds ourselves in all to familiar place. This might not be a bad thing...if we all weren't turned into a creature that didn't belong in this other world. To make matter worse, we have been scattered across this new world, and need to find each other before we can figure out how to move forward.
That prove easier said than done, as the antics of the town folk, (and a let cause by us) made that task a little hard. But I'm sure we can manage, we made some good friends that can help us weather we coming next, and maybe even have a little fun along the way.
Oh, and there's a well. Don't know why I just said that, but there's a well for some reason.
This is an experiment, to see if I can get back into writing certain types of stories, so don't expect regular updates a lot
Chapters (4)