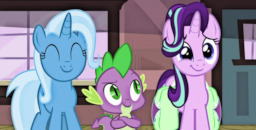 Trixie's feats are, without a doubt, known all across Equestria (even if not for the reasons she would like). But, her less than stellar reputation aside, she is a bold and daring mare; a few neigh-sayers are not going to hold her back from fulfilling her destiny of being a highest-level unicorn!
When an ursa major begins venturing into Ponyville and causing devastation, Trixie—faced with an all too familiar foe—decides that there is no better time than now to prove her newly learned magical skills. What better way to make it up to Ponyville than by being their saviour? After all, as she so confidently reminds Starlight, she vanquished an ursa once before. Defeating it with her improved abilities should be easy!
Starlight really should have done her homework before agreeing to this plan.
Written for the Cheap Thrills contest prompt. Edited by the amazing Word Worthy.
Chapters (10)