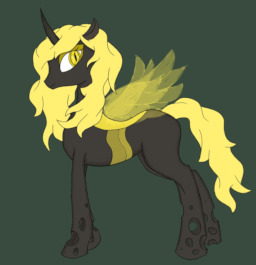 Dinky considered herself an average sort of filly. She didn't quite have her cutie mark yet, but it wasn't late enough to have any worry about it. She was a bit shy, and a bit bookish, but that was probably Twilight's fault. The library never had a lack of interesting material.
Her mom was amazing, but that was just a given.
She never considered herself a hero, though. She was never particularly brave, particularly smart (though her mother told her otherwise), and she never had any real talent with magic.
So she never considered that such a simple decision could have such a big impact on so many ponies. She never thought that she could have this much responsibility.
And she never thought that it could have this much impact, personally.
That's what she thought, at least.
It was the first decision that started it, yes. But that first decision would have ended up getting her killed. It was the second decision that made her a hero. A hero to the changeling race.
Chapters (6)