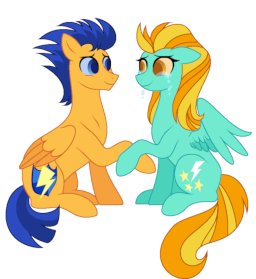 Source
Lightning Dust, after beeing kicked out of the Wonderbolds, became so devastated that she decided to live far away from her family and her beloved twin-brother Flash Sentry. Afraid that her family would be dissapointed at her beeing selfish and almost kill the Elements of Harmony, she never contacted them again. Her mother became worried that something bad, or worse, had happened to her daughter, and Flash was too busy with the Royal Guard but was always looking for answers to what had happened to his sister. But now, with the Birthday Ceremony of Princess Twilight Sparkle, she packed her things up and headed up to Ponyville with the hope of finally meet her brother.
Unfortunately for her, Rainbow Dash has some loose ends and won't be so happy to see her.
This is my very fist story i've ever done. This and the fact that english isn't my native language won't help at all. So if you guys could help me in any way i'll be forever grateful.
"dark" was tagged only for chapter one and two, the rest will be smoother
Cover art made by: CarouselUnique
Chapters (8)