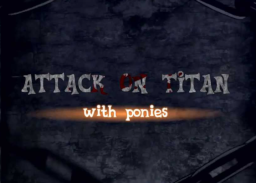 Captain Levi of the Survey Corps, along with his comrades Eren Yeager and Sasha Blouse are transported to Equestria while exploring a potato farm.
But is Equestria ready for a pony with Eren's unique ability? Does the land ruled by the royal sisters have enough potatoes to satisfy Sasha? And will Levi be able to restrain himself from kicking ponies in the face for long enough to learn a message of friendship?
Oh, and Jean is in it too.
Collab with the amazing VitalSpark as a birthday present for Winter Snowburst.

Also, fabulous art for this story here! Made by VitalSpark
Chapters (1)