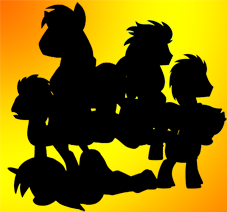 "Congratulations! If you're reading this book, it means that you've been tasked with EEASS's main project: finding and putting together a team of six stallions and bring them to the spotlight for the salvation of male ponies' virility everywhere! If you haven't been tasked with the mission, please close this volume right now, and return it to our offices in Canterlot. Failure to comply will be met with extreme prejudice and harsh words.
Now, let's get started! First thing, why is it called a Five Stallions Band if you're going to need six members? In the first chapter of the book..."
What happens when Equestria needs six stallions and Luna becomes genre savy? EEASS, that's what.
Chapters (2)