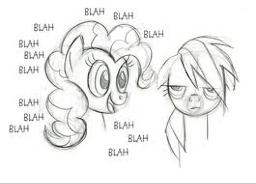 Pinkie Pie.
One slip-up.
Eternal talking.
The risk of death.
Can the girls save Pinkie Pie from her continuous loop, or will they lose her...forever?
I've re uploaded this with revisions. Why?
My brother deleted it. Luckily, I had it on a back-up!
So if you feel like you've seen this before, chances are you have!
Chapters (1)