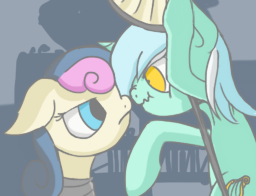 Somepony has stolen one of Lyra's most prized possessions, and she was nearly one-hundred and eighty-three percent sure that she knew who stole it. Not that the guard cared. Oh no. They needed things like "evidence" and "motives" and "for her to stop calling the guard with crack-pot theories."
Well, Lyra wasn't one to give up. If it was evidence the guards wanted, then by Spode it was evidence they'd get. Hay, she could do even better than that, the guards couldn't ignore her if she got a confession straight from the culprit. Thief goes to jail, item gets returned, and Lyra's back in time for dinner. An honestly infallible plan. All she had to do was wait for the culprit.
---
This is my first fic, so I apologize for any melted eyes.
Chapters (1)