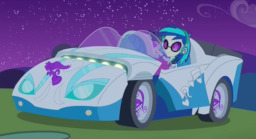 Vinyl Scratch is a teenager with two passions: Music and being heroic.
With the blessing of the secretive WUBS organization, she takes up the mantle of the vigilante known only as 'The DJ' and jumps into the seat of the super high-tech P.O.N.-3 convertible.
Equipped with special reverb plating, the latest in auricular engine technology and a weaponized sound system far, far ahead of anyone's time, she prowls the streets and takes down any ne'er do wells from petty burglars to smugglers moving their goods around to downright villains like the Symphonic Society all so that the common citizen can sleep safe at night. Although she has woken them up by accident on more than one occasion.
Chapters (1)