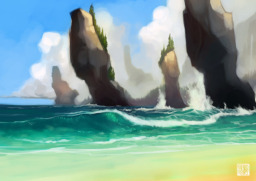 You wake up on a deserted island with no idea who you are, where you came from or who the beautiful mare who apparently saved your life is. The only things you do know are the blatantly obvious. You're an earth pony, you have limited supplies, and you are so totally bucked.
~Author's Note~
Ello all. I just wanted to say that this is the first fan fic I've ever written with the intent of posting it, so criticism is highly welcomed. Even if you want to completely bash me for being an, "Unimaginative idiot who couldn't write his way out of a paper bag." (Legit quote from a friend who looked at one of my first stories years ago.)
Anyway I hope you enjoy this story and that no else has had a similar idea to this one.
Cover image drawn by takeru-san over at deviantART http://takeru-san.deviantart.com/
Chapters (4)