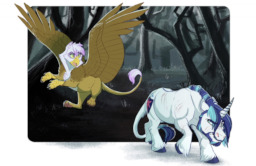 Source
By the time Princess Celestia chained her to the execution site, Gilda knew that her week was going to suck. Now she wants to find out who set her up, and she is not alone.
Cover art by Earthsong, who never fails to blow my mind with her skills and talent.
Current status: I've been neglecting this fic for way too long and I absolutely apologize for that. 2018 was the year I revved up my writing again, and I want to make 2019 the year I actually finish a few fics, including this one.
Chapters (1)