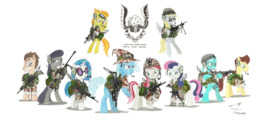 Twilight must gather a team of Special soldiers, and under the supervision of their mysterious commander they must bring down the leader of a terrorist organization, he is known only as "Sombra".
An Equestrian version of the War on Terror in Afghanistan/ Iraq. This is a collection of stories taken from the perspective of a few simple mares who play their part in the ongoing war.
Okay so everything in this in strictly human, no horns, wings, magic, no nothing so don't say I didn't tell you. As a military man myself, I found it quite bizarre I haven't actually written a story involving any military action whatsoever, so here you go. I will be using some of my own personal experiences, as well as my actual job in this story, so take that how you will. Also the're real military terms, acronyms, jargon, etc. As only five character tags are allowed I picked the major characters needed. Other's will show up later in the story so don't you worry. Props to my editor because He doesn't really like military related stories but he suffered through it anyway, Thanks man!
Story is rated teen for minor violence and swearing.
Editor: ShimmeringStallion
Chapters (1)