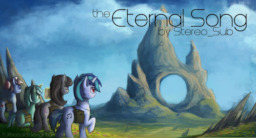 Source
Music.
It's great, right? Gets your hooves movin', your heart pumpin', really makes you feel alive. I'd always heard, felt, lived, breathed music every day, every second of my life, and I'd never even thought about it.
At least, not until I agreed to save another dimension while blackout drunk, traveled there with my best friends, almost died (many times), fought horrible monsters, met an actual living god...
And, well, there's more than that, but I'm getting ahead of myself already. For now, perk your ears, listen up, and you'll hear a story that I'll never forget. The story of the Eternal Song.
Cover art by the amazing Turbosolid.
Chapters (10)