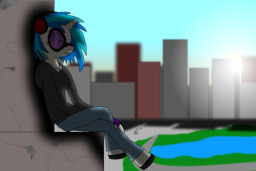 Vinyl. One of Equestria's greatest DJ's is failing. Her last hope is to take a job as teaching in Manehattan, the city where dreams come true. Not so much. Dreams may come true for some ponies, but only at the cost of others. But Vinyl is left with the question of which side she is on. Taking this job as a teacher, that's just the square one to finding her answer.
Edited By Decaffeinated Nightmare
Cover art by StormBadger, used with permission and pretty damn good in my opinion.
THIS IS MY FIRST STORY - so please give all types of feedback: Positive, negative, constructive all of it.
Rated teen for some suggestive stuff but no actual graphical content. That is decided and will not change.
Chapters (2)