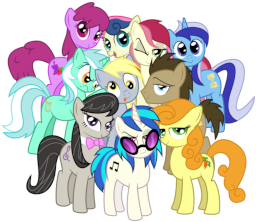 As you walk through Ponyville, the first ponies you notice are the ones that really stand out. Namely, the mane six. But every time you saw that pony brushing past you or singing in the chorus or sitting in the crowd, it was one of us. One of the background.
A fic centering around the background mane six: Doctor Whooves, Vinyl Scratch, Lyra Heartstrings, Bon Bon Sweetie Drops, Derpy Hooves, and Octavia.
Doctor Whooves as Twilight Sparkle
Derpy Hooves as Pinkie Pie
Vinyl Scratch as Rainbow Dash
Octavia as Rarity
Lyra Heartstrings as Applejack
Bon Bon Sweetie Drops as Fluttershy
And Roseluck Tyler as Spike the Dragon
VOTE FOR WHICH EPISODE YOU WANT TO SEE NEXT IN THE COMMENTS!!!
Special Thanks to:
ThunderChaserCreate
SkyStorm
eXtaticus
Chapters (2)