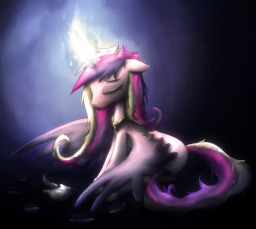 Source
Cadance receives a letter which no one delivered, written by two little fillies who never lived. It mentions a daughter Cadance didn't know she had, and a great wolf no one's ever heard of. Cadance decides to find the two and grant their wish, but why did she go alone, and what did Clover the Clever write on a rock in the middle of nowhere?
Update (March 12 2015) The story is complete, and the first six chapters have been updated a little. If you already read those chapters, it may be worth reading them again, or it may not. I've listed some of the most obvious changes below, but I can't say that's all.
I am not very happy with this story, to be honest. I think it suffered from some real mistakes, and I've come to realize that it should have been written from a different perspective entirely. Since I can't change that now, I leave it as it is and hope some of you still enjoy it.
Changes
- The village where Silica and Silene live now has a name: Glimmerville
- Silica and Silene's mother now has a name: White Rose.
- Since it seems I never established this, the two fillies and their mother are all crystal ponies.
- A few hints of Cadance's pregnancy have been added to the early chapters.
- The guards who follow Cadance in chapter 2 now include Flash Sentry in place of one of the previous OCs. The guards are now: Wing Commander Jade Eye, Flight Lieutenant Skyline, and Flying Officers Rimelick, Flash Sentry, and Greyhound.
- There are now implied to be additional groups of guards out patrolling and scouting under Jade Eye's command.
- I wanted to be more consistent about the structure of the pegasus air force units, though it's not exactly important. A flight is a group of 3-5 pegasi led by a Flight Lieutenant. A squadron is three flights, and a wing is three squadrons under the command of a Wing Commander.
- In chapter 2 there used to be a small mention of a sun-like symbol on the rock next to Clover's message. I decided to remove that detail.
- I wanted the timeline to be more consistent as well. The story begins not long after Twilight's coronation, six or seven years after Luna's return from the moon I imagine. Fenris first appears and is chained a few years after that. He escapes his bonds some 40 years later, a few years before Silica and Silene's mother is born.
- In chapter 6, after she wakes from the dead, Cadance's magic no longer shows traces of black magic.
Chapters (10)