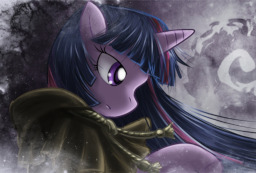 Source
A thousand years after the Princesses disappeared from Equestria, Twilight Sparkle meets a lost Cloudsdale scout named Rainbow Dash. Together they look for a way to end the thousand-year night and dispel the darkness that has spread across Equestria.
Edited by Pascoite
Contains fairly mild grim-dark. Inspiration taken from the Dark Souls games, but it's not strictly a crossover.
Chapters titled "Arc #: Chapter Name" are part of the main story. Chapters titled "Character: Chapter Name" are one-shots about other characters, set in the same world, and aren't necessary in order to follow the main story.
Chapters (10)