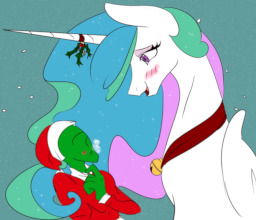 It's been a couple of months since he arrived in Equestria and Anon's still adjusting to life. When he hears about "Hearth's Warming", Anon is determined to give the best present ever to Celestia, and hopefully earn her affections in the process. Follow Anon as he goes on a hilarious present hunt and pray he doesn't get banished to the moon for a millennia.
---
This is written as a gift for ROBCakeran53 as a part of Jinglemas 2021.
Cover art is 2740240 on Ponybooru.
Chapters (1)