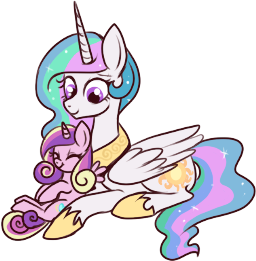 Source
This story is a sequel to Pray Tell: Who Inscribed All These Bollocks Upon The Walls?
---
Poor little Cadance.
What little filly wouldn't be miserable under all the pressure of being the world's only other alicorn princess? Say goodbye to a normal life, normal school, normal friends, and, maybe worst of all, your only role model is the literal perfect pony. Rough life, huh? To get back at auntie, she's going to, armed with a screwdriver and a knowledge of school desk graffiti, make her quite literal mark on the palace.
Celestia is a princess out of her element: running a country is easy. Raising a filly is hard. She is also, incidentally, something of an expert at vandalism.
Maybe there's a lesson here after all.
---
Unapologetically saccharine sweet. Chronological prequel to the fic listed. You probably don't need to read it to understand what's going on, but you should.
T rated for general content. Very tame, really.
Chapters (1)