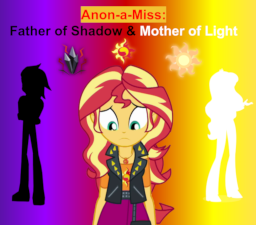 This holiday season is the worst time of Sunset's life. Anon-a-miss has made everyone believe that she has returned to her old ways and is now the target of everyone in the school.
Having just about enough pain and suffering Sunset tries to end it all but is saved and brought back to place where she can recover by an unlikely counterpart.
Now with the peace in the dark and guidance of the light, will Sunset prove her innocence to Canterlot High and even perhaps fulfill a dream she had long accepted would never come true.
(For those who read the MLP IDW comics, there will slight references here and there, so be warned)
Chapters (1)