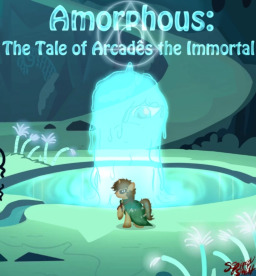 The great earth pony alchemist, Arcadês, sought to discover the secret to immortality during the reign of Discord. Little is known about the legendary alchemist today during the Age of Friendship, as all records were believed to have been destroyed amidst the chaos of the Mad-King's reign. Now, so many years later, while searching through the tomes in the Castle of the Two Sisters, Twilight finds a record written by Celestia and Luna that marks the last known location of Arcadês who, in that very book, is given the title "the Immortal."
Following the trail left by her mentor and friend, Twilight adventures to the location specified in the book with her friends in tow. Twilight had followed the book expecting to find journals or perhaps potions. Instead, she found a story.
What follows is the tale of a troubled pony, seeking for their place in the universe. What do you do when your mind is shaped by your world and your world is one of insanity and chaos? What do you believe when nothing is believable? And how far would you go to reach an impossible, improbable dream?
---
Pre-Readers: RobiPony and duckboy416
Cover Art made by Spirit Shift. He's a very quick artist who wastes no time in completing commissions!
Given the Death tag because of the central theme in the story and the Sex tag for implications and clinical discussions about sex.
Chapters (5)