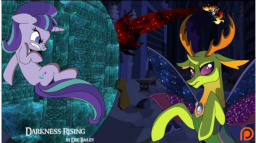 This is a story of love, heartache, and fear. The young evolved Changeling Thorax, has fallen in love with a certain unicorn that has Twilight for a mentor, however, nothing is at peace forever in Equestria. When 2 old enemies re-surface once again, seeking retribution for what Twilight, and Thorax had done to them.
Soon after a rigorous fight against the evil corruption in their minds, Luna, Twilight, and Celestia, soon fall to the corruption, releasing their alter evils from their shackles. Turning them into Day Breaker, Midnight Twilight, and Nightmare Moon.
The fair ponies of Equestria, and Twilights' friends, are imprisoned and Equestrias in flames, yet not all hope is lost.
Authors Note: If you enjoy what I write, please pledge to my patreon, and I'll do many things for you, including giving you the title cover of this book as a wallpaper for your computer, or mobile device.
Art Drawn By: Bronyprophet
Pledge to my patreon if you like what you see
My Co-authors patreon is here share the wealth
Chapters (11)