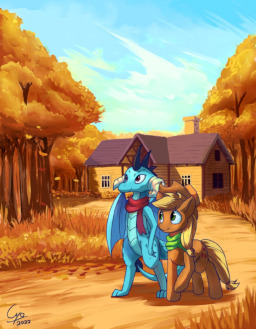 The weather's grown cold, and the leaves are starting to fall. But this change in temperature's never quite so bad as long as you have somecreature with you, and at least for now Applejack and Ember have each other.
But all things change. The seasons, most of all. And as the seasons change, all things under the stratosphere must change with them, for better or for worse.
Maybe—just maybe—A weekend in a cabin in the middle of the woods might be enough to change all that. Especially a weekend with a special somecreature. Maybe it could even be enough to bring about a satisfying ending.
There's only one way to find out.
---
This isn't, literally speaking, my 50th story; it's a couple stories too late for that. But in terms of wanting a story to celebrate a big, round number, well—here it is. This is something I've wanted to write for a while, but struggling with writing in general's gotten in the way; were it not for EFNW being the shot-in-the-arm that it was for getting me excited about writing again, I may never have finished this at all.
But it's something. And, hopefully regardless of how much everyone else likes it, it's something I can feel glad about for having written. Here's to hoping it won't be the last time I can find satisfaction in a story.
All of my thanks to Flashgen and Wanderer D for helping me out with this; It needed quite a lot of help in the end. Thanks to Cyonix for drawing the cover art of this (I know, actually commissioning art, right? I think that might be a first for me.) Thanks to a musician that I've already thanked before, who I'll be annoyingly cryptic about.
And thanks to the many, many other people responsible for making MLP:FiM exist.
Chapters (8)