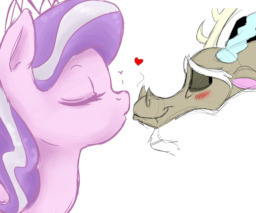 Long days tend to get boring, with Fluttershy out of town and bookhorse is busy. Discord finds himself bored out of his mind... then he meets a filly that would change his life forever, well by forever I mean for day and by life I mean boredom.
Since this stars Discord, expect references, fourth wall breaking, and other nonsensical nonsense.
Enjoy!
The cover art isn't even slightly related to the plot. It looks good.
Credit to the artist?
http://www.funnyjunk.com/channel/ponytime/Diamond+tiara+x+discord+otp/bsDqGof/
Chapters (1)