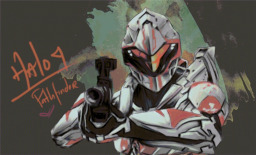 (Warning Tis a Displaced story!) Well... It sucks being in Equestria... I mean, yeah I'm a Brony... A closet Brony, but a Brony nonetheless, but getting sent there from a con by a dude who looked like the Resident Evil 4 merchant kinda sucks... And not because I don't get to see my family and friends ever again, but because I become a Sparten 4 under a minute... And then it hurts... And I mean it HURTS! I felt like I went through a grinder, then a wood chipper. It sucks... And all I have is Pathefinder armor, a DMR, and magnum. I also have Master Chiefs cloak from the Halo 5 trailer... What? I had to, I needed to look badass... And a have a knife like Emile's from Halo Reach... Once plastic now metal... Don't judge! You would've done the same fucking thing!... So... Hope you enjoy my misadventures in Equestria... That is, if you are reading this...
I own Nothing! All rights go to Hasbro for making My Little Pony.
And Microsoft for making Halo.
Enjoy the adventure!
Chapters (19)