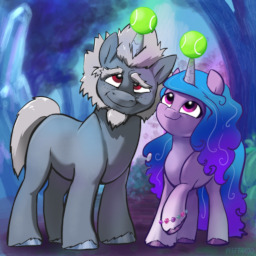 Source
Shortly after her transformation, Sunny Starscout is keen to know more about the magic that led up to it. After going through her father's old research, she stumbles upon the legend of an ancient amulet and the alicorn who wielded it.
It is now up to Izzy Moonbow and Alphabittle to voyage across the sea, to the Griffish Isles where the amulet is said to be located. Its discovery could be the key to finding out more about the powerful magic behind Sunny's transformation.
Now Featured on Equestria Daily!
Winner of a Judge's Choice Award for the
Gen 5 Bingo Contest held by Shrink Laureate.
In collaboration with:
Cerulean Voice who refined and reworked this story's mold into the best it could be.
And Paracompact and Pascoite who helped with editing, proofreading and general writing advice.
Artwork by Pfeffaroo
Chapters (1)