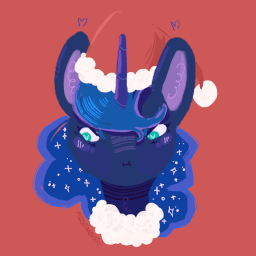 War is brewing in the northern reaches of Equestria.
Well, not really. Or at least, let's hope not. Hearth's Warming Eve is only a week away, and a war would really murder everypony's holiday spirit.
Fortunately for Equestria, Princess Celestia has a plan to stop the war before it even gets started, just in time to save the holidays. Unfortunately for Princess Luna, her sister's absence means she has to dress up in a red suit, head over to the local mall, and listen to the children of Canterlot prattle on about their asinine wish-lists.
She'd rather be going to war.
---
Happy Jinglemas, Level Dasher!
Pre-reading thanks to Semillon, who is sensational, and Mousse, who is marvelous, and also provided the dope-as-hell cover art. Look at it. Looklooklook.
Chapters (1)