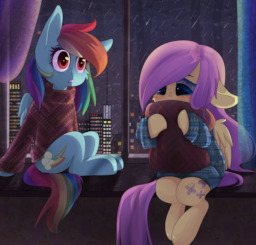 Source
Fluttershy watched her grow, she watched her learn, she watched her chase her dreams and eventually watched her catch them. Now Rainbow has everything she ever dreamed of, everything could ever want out of her life.
However watching Rainbow achieve her goals has left Fluttershy in want, desperately needing something that she isn't even sure that her old friend even has to offer, love.
For years the two had gone their separate ways, however the chance to see her old friend again means Fluttershy has one more chance to speak from her heart. Will it make a difference though?
---
Inspired by the artwork of AlanD-nyan
Chapters (1)