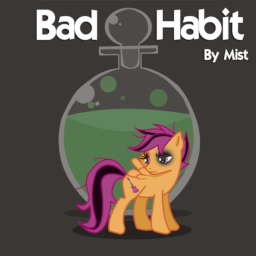 Source
This story is a sequel to Like Me
---
When it feels like you have no one you can count on, you'll turn anywhere for that little pick me up. Sometimes though, it can be a bad habit to have, and even harder to break when it gets you in deep. Growing up can be tough, especially when you feel like no one really understands you. Scootaloo learns the hard way in a tale of friendship, family and coming of age.
Almost a year in the making, the long awaited sequel to Like Me.
Cover image done by CypressPhoenix
Update 10/17/12: Fixed many errors, and reworded things to help make the story sound less "mechanical" also added an epilogue.
Chapters (1)