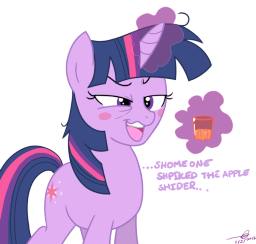 In the aftermath of Sweet and Elite, Rarity feels bad for blowing off Twilight's 21st birthday. Twilight says it's fine, but Rarity insists on letting her take Twilight out to a nightclub for a 21st birthday nopony would ever forget. Well, except for the two drunk unicorns...
This is just a little idea I got after listening to The Levels Everypony Should Know by Silva Hound.
Rated Teen for alcohol and cussing.
Chapters (1)