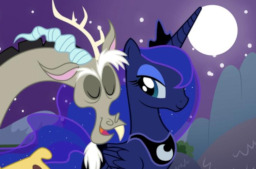 Discord was never imprisoned.
Its only one small change, but the ramifications are immense.
Especially for Princess Luna.
Whats happens to Princess Luna and Nightmare Moon when there is Discord inside the picture,
A great tragedy?
An epic battle?
Being banished to the Lemonade Realm ?
Or maybe, just maybe, something spectacular unfolds.
Chapters (2)