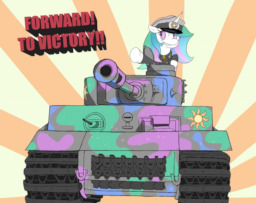 Source
A story about war, based around a pony equivalent of the Second World War.
---
The world of Equestria is at war. Germaney, led by the Neighzi Party, has allied with Yak Yakistan, and the two countries are waging war across the entirety of the planet, using recent technological innovations to make their assault unstoppable. Equestria is one of the few countries with similar technology actively battling to keep them from successfully claiming any more countries as part of their empire. Will Equestria manage to stop the Germane-Yak alliance from putting the rest of the world inside of their empire? And what are the effects of this war on the common soldier, and common citizen?
---
Just a note, I'm thinking about possibly continuing the story with another chapter or two, or with an epilogue of some sort. Probably the epilogue. Meh, you probably don't care either way.
Note number two: I don't actually think the profanity tag is needed, but I'm sure I put some profanity in there somewhere. So I'm keeping it just in case.
Chapters (1)