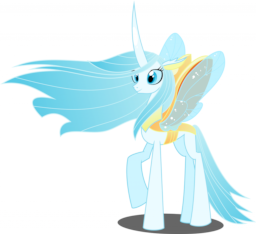 "I see a beautiful city and a brilliant people rising from this abyss. I see the lives for which I lay down my life, peaceful, useful, prosperous and happy. I see that I hold a sanctuary in their hearts, and in the hearts of their descendants, generations hence. It is a far, far better thing that I do, than I have ever done; it is a far, far better rest that I go to, than I have ever known."
---
Chrysalis has been under the training of Twilight Sparkle for two months now. She's found something, a true purpose.
Unfortunately, Celestia is still wary about her, and is making sure that the master of deception has really changed.
In the distance, an old friend has heard news of Chrysalis's dethronement, and is finally given the incentive to act a plan he's been preparing for decades.
Chrysalis must finally show the world she's prepared to change. That she'll be more than a hero.
Chapters (2)