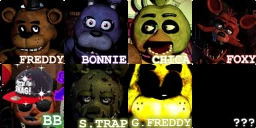 An animatronic bear named Freddy makes an offhand remark. No one is ready for what happens next.
---
Inspired by the works of Sable Lynn & Joshua Shaw, the creators of the Five Nights at F**kboy's RPGs, as well as several other things.
Tagged for strong language, sexual references, and a singular human corpse.
Chapters (1)