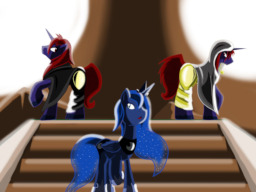 Source
Alicorns, where did they come from? The Three Pony Tribes had founded Equestria and not once was a Alicorn mentioned. Not even Celestia nor Luna knows where they came from, everypony thought they were the first Alicorns but now everything is put into question when Luna is called to overlook some old ruins. Hidden deep within them lies a shattering truth that just adds too many questions, who is this new Alicorn?
Why was he imprisoned? Is he telling the truth or playing the two sisters for fools? As time unlocks a war that predates the royal sisters, the race to solve the mystery and save their very land is on. But the further they go in stopping the war from truly restarting, the more it seems to get out of their control and it's up to Princess Luna, to decide whose side is truly the right path.
NOTICE:I am rewriting the past chapters to fix spelling errors and plotholes, so I hid the other chapters until their rewritten and fixed. Fear not just look at my DA (linked in every updated chapter) if you want to see the old versions.
Chapters (1)