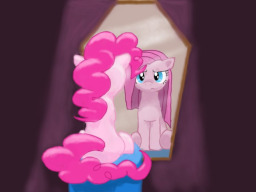 Source
Pinkie Pie is having trouble remembering her childhood, but thanks to Twilight's memory spell she soon starts to remember, and remembers why she forgotten them. Now with her painful memories restored and a alter ego she is forced to keep her past a secret and follow her darkest desires just to keep them at bay, but it might come at a high price....her closest friend Twilight.
---------------------------------------------------------------------------------------------------
Quick notice this IS a remake, the original version will remain at my DA so if you wanna read it just message me VIA a note, reply faster. This story was inspired by a song made by TarbyRocks, he DID give me permission when I first wrote this, here's a link to his song if your interested. This was also originally written with MrE380.
Also I'm rewriting/editing this to fix all the errors, plotholes, and just make it a better story. I will do this to Alicorncation later on but for now, enjoy. ALSO gore as there will be blood and the like, you've been warned. XD Also the title image is by shadesoflove from DA, and he gave me permission to use it.
Chapters (2)