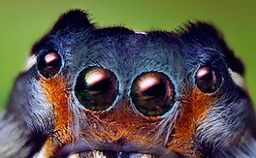 A large group of Veneighzuelan sad-faced spiders are looking for a home to call their own and care for the future generations, but they haven't had much luck. Now they've found a thick forest called the Everfree which suits them just perfectly. Unfortunately, while their usual prey live within the confines of the trees, they weren't prepared for the special beasts that live there too.
Now they must find the safest place possible to rest and rebuild and live. Let's hope they find it soon. They're too tiny to survive for long in the wild.
---
The Veneighzuelan sad-faced spider is Jet_Black1980's teeny tiny creations and this story is set within his HB-Verse. This is a gift...so it'll probably be mother's day quality...

Chapters (1)