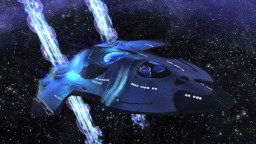 Source
Returning from a mission into the early past, the Federation temporal vessel, the USS Pocket Watch returns to the year 2410. A band of rebel Klingons lie in wait, waiting for their next prey. They attack the temporal vessel, still vulnerable after exiting the time stream. The battle is one-sided, weapons and shields are still offline.
The Tipler cylinder is activated and they find themselves above Earth, but not the planet they know.
---
These events start off in the year 2410 in the Star Trek Online universe. Enjoy!
Chapters (5)