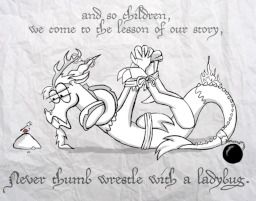 You know this advice that, when experiencing writer´s block, you should just start writing whatever you are getting from your head, no matter how nonsensical?
Well, that is how this story came into being.
As Scootaloo walks down the aisle, some eldritch stuff happens, and, as the world becomes more and more crazy, it starts falling apart, and the badgers have to chose.
Do not, under any circumstances, unless your name either includes a reference to salt, or your avatar depicts a melon, take seriously.
This story does not make sense.
Also, this story is one of those truly random stories, because after an amount of sentences decided by a dice, I added a sentence from a random page of either the MLP-Wiki, the DoctorWho-Wiki, or TV-Tropes.
I have no idea why I did that, but it gave some interesting results, to say the least.
Well, good luck with reading this story.
You will need it.
Chapters (2)